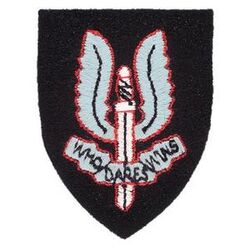 Special Air Service
---
---
Headquarters
Hereford, England, UK
---
Type
Special Forces
Special Operations
Team Members
The Special Air Service (SAS) is the special operations regiment for the British Army. The SAS was formed 1st July 1941 and was then disbanded in 1945. The SAS was then reformed on January 1st, 1947 and still exists today.
They known for their service in World War II, Falkland War and the Iraq War. The SAS is primarily based in Hereford at their regimental headquarters along with the SRR. Together with the Special Reconnaissance Regiment and Special Boat Service they form the United Kingdom Special Forces.
The SAS is widely regarded as the finest and best trained special forces unit in the world. The SAS training is thought to be the toughest; with many soldiers dying in the Brecon Beacons (UK) due to the intense training that they are put through. Recruits come up against harsh weather conditions and many suffer from extreme dehydration and even hyperthermia.
Community content is available under
CC-BY-SA
unless otherwise noted.